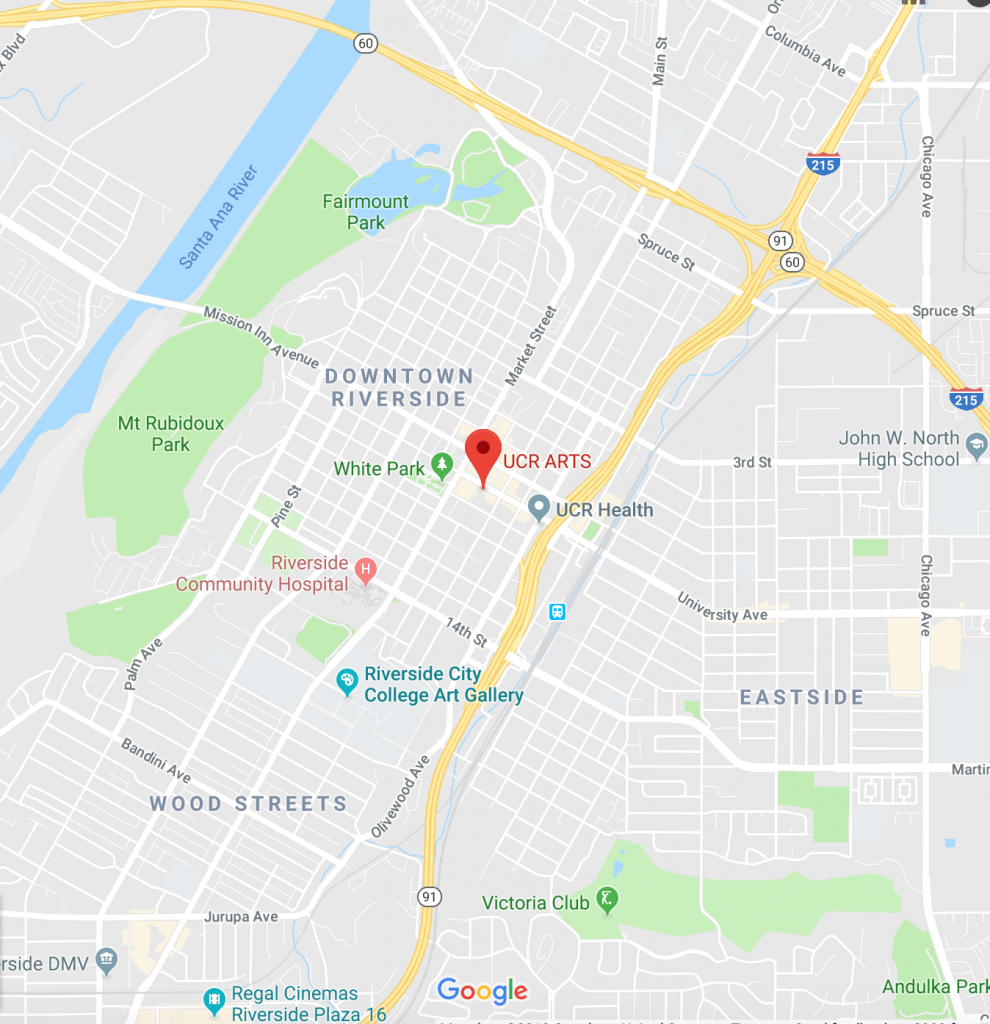 The event will take place at:
UCR ARTSBlock
Culver Center for the Arts
3824 Main Street, Riverside, CA 92501
Parking lot rates are priced at reasonable rates and are in effect from 9-5, Monday-Friday. Parking is free before and after that time period and on weekends. Curbside metered parking is available throughout downtown Riverside, and is free after 5 PM, weekends and holidays. For more info, visit Parking in Downtown Riverside.
Getting to Riverside:
Air
The closest airport to Riverside is Ontario International Airport https://www.flyontario.com. Other nearby airports include Los Angeles International and Hollywood Burbank Airport https://hollywoodburbankairport.com.

Train
Riverside train station is located downtown at 4066 Vine St, and is serviced by Metrolink trains https://www.metrolinktrains.com and Amtrak https://www.amtrak.com/home.html with services to and from Orange County, Inland Empire, San Diego County, and Los Angeles County.
Bus
https://www.riversidetransit.com/index.php/riding-the-bus/maps-schedules

Car
Riverside is located off the 91, 215, and 60 freeways.
Parking: All parking in the parking lot across from the Culver Center is free on weekends.  For performers coming for tech on Friday, parking is free if you leave after 6:30pm.  The driver simply needs to pull a ticket from the kiosk and find an unmarked spot on the second or third floor. 
LODGING OPTIONS
UCR Extension Residence Center (ERC)
1200 University Ave, 92507
(951) 827-1708
Rate:
$65.00 per night for 1 guest in double occupancy room
$70.00 per night for 2 guests sharing a double occupancy room
Includes:
Complimentary breakfast at UNEX café (located on the 1st floor)
Free high-speed wireless Internet throughout the building (including rooms and lounge)
Telephone (free local calls)
Bed linens and towels
Hair dryer and bathroom toiletries
Laundry facilities (additional cost)
Housekeeping services are on Mondays, Wednesdays and Fridays
Please note the following ERC policy: No smoking. No cooking. No guests under 18 years old. Parking is $5 per day.
HOW TO RESERVE AT ERC:
Email Rika Toyoda at erc@ucx.ucr.edu, and mention Indigenous Choreographers at Riverside (ICR) at UCR.
Dynasty Suites Hotel
3735 Iowa Ave, 92507
(951) 369-8200
Rate: UCR discounted rate varies depending on room ($79.00 – $89.00 per night)
Includes:
Deluxe Basket of Amenities
27″ Flat Screen Television w/ DVD Player
In Room Refrigerator and Microwave
Executive Work Desk
Granite Topped Furniture
Free WiFi / High Speed Internet Access
Free parking; one car per room
Deluxe Complimentary Breakfast
HOW TO RESERVE AT DYNASTY:
Call (951) 369-8200 and ask for the "UCR rate."
Hyatt Place Riverside Downtown
3500 Market Street, 92501
(951) 321-3500
Rate: $119.00 per night, accommodates 1-4 guests
Includes:
Free hotel-wide Wi-Fi and remote printing
Free breakfast with cage-free eggs, all-natural bacon, Greek yogurt, and more
Free 24-hour StayFit Gym with Life Fitness® cardio equipment
Free e-room/business center with computers and printer
Outdoor swimming pool and courtyard
All-day dining from our 24/7 Gallery Menu and 24/7 Gallery Market
Pet-friendly rooms
In-room refrigerator
In-room microwave
All rooms are suites with either one queen or king size bed, and a L-shape sectional sofa that pulls out into a bed
On-site parking is $8 per vehicle/per night (with university rate).
HOW TO RESERVE AT HYATT:
Call toll free number (888) 492-8847, and mention "UNIR" to receive the university rate.
Marriott Riverside at the Convention Center
3400 Market Street, 92501
(951) 784-8000
Rate: $129.00 per night
Includes:
Free high-speed internet access, work stations, and DIRECTV
In-room coffee & tea service
FREE SHUTTLE SERVICES TO UCR (arrange at the front desk)
Please note that this hotel has a smoke-free policy.
Parking is $14 per day.
HOW TO RESERVE AT MARRIOTT:
Call (951) 784-8000 and mention the "University of California Preferred Corporate Rate."
The Mission Inn
3649 Mission Inn Ave
Riverside, CA 92501
(951) 784-0300
Rate: $142.00 Deluxe Room
HOW TO RESERVE AT MISSION INN:
Call (951) 784-0300 and ask for UCR friends and family rate
The Quality Inn Hotel
1590 University Ave
Riverside, CA 92507
(951) 683-6000
Rate: $79.00 King Room, $89.00 2 double beds
Courtyard by Marriott
1510 University Ave
Riverside, CA 92507
(951) 276-1200
Rate: $119.00